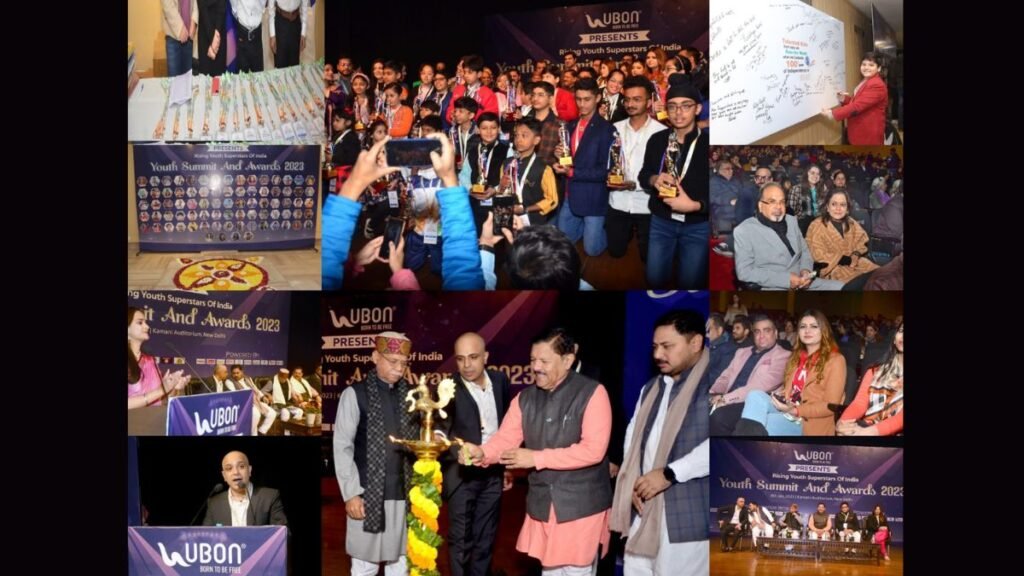 New Delhi(India), January 11: The Youth Summit and Awards function for the Rising Superstars of India was held at the Kamani Auditorium, New Delhi, with over a hundred youth geniuses of the nation, were honoured.
Present on occasion to facilitate the Rising Superstars of India were Chief Guests Sh. Shiv Pratap Shukla, former Union Minister Of State (Finance), Government of India and Ex-Chief Whip (Rajya Sabha) and Sh. Shyam Jain, Ex-National Vice President, BJP and guest of honour Mr. Harsh Deep Malhotra, General Secretary, BJP (Delhi).
Mr. Sahil Seth, Joint Commissioner GST Customs & Narcotics & Mr. Tejas Bakre (GM, CHESS), Mr. APOORV OM, Ms. Payal Chaudhary(Actor & Model), Ms. Priyanka Gupta, Ms. Means Malhotra, Dr. Kappil Kishor, Mrs. Neena Chhabra, Ms. Shivani Sharma Singh, Mr. Subhasg Jindal, Mr. Gaurav Gupta were the Special Guest on occasion.
Mr. Mukesh Shukla, chairman of the welcome committee for the event,Mr. Rahul Bhuchar, chairman prize distribution committee & Mr. Gaurav Khari, chairman event management committee, were also present to motivate the kids.
The Youth Summit and Awards function facilitated more than 150 kids, for their remarkable achievements, in the presence of more than 600 guests & Media at the Kamani Auditorium in New Delhi.
Title sponsor for the event was UBON, and other sponsors were SHOESME, ABBIE'S, NEELGAGAN stationaries, KnowDis Data science, Viva Volt, Balak Creations, Taurus, RSP- royal sports promotions and Budget pe.
Also facilitated at the function were Mrs. Deepali Sharma, Mr. Shivam Chhabra, Mr. Vinay Choudhary, Mr. Anubhav Dhir, Ms.Kriti Wadhera, Mr. Deepak Bnasal, Mr. Ankit Nagpal, Mr. Sumit Kher, Mr. Prashant Mehta, Mr. Kanishk Ahuja, Mr. Ajay Vohra from an advisory board of RISING YOUTH SUPERSTARS and many more were facilitated and from screening committee of RISING YOUTH SUPERSTARS Mr. Devvrat Chaudhary, Mr. Jai Singh Shekhawat, Mr. Shivansh Tyagi, Mrs and Mr. Deepak Vashisht, Mr. Amitabh. S., Mr. Ankit Raj Kakar, Mr. Mohit Gupta, Mr. Prashant Sahgal, Ms. Madhu Nagpal, Mr.Karan Trivedi, Mr. Abhishek Saxena, Ms. Ruby Thapar, Mrs. Saguna Gupta, Dr. Shruti Singhal, Mr. Atul Bhardwaj, Mr. Vinod Phutela, Mr. Amit Dhawan, Mr. Rajan Mehra, DR. Ritu Khosla, Ms. Aasmi Saxena, Ms. Rekha Nahar, Mrs. Ritu Gupta, Mrs. Rachna Ahuja Bangia,Mr. Kuldeep Sharma, Mr. Anupam Goel, Ms. Manisha Jain, Mrs. Nitika Gupta, Mrs. Vidushi Asrani, Mrs. Neelam Jindal, Mrs. Tanisha Chawla and many more.
The Rising Youth Superstars of India project is the dream child of Mr. Anubhavv Arora. An initiative of the Give For Rising Indian Stars Foundation, a Government registered Charitable Organisation based in New Delhi, the Rising Youth Superstars of India project seeks to document the exceptionally talented children we have around us.
With this aim in mind, the project publishes the Rising Youth Superstars of India. These volumes are aimed not only at recording the life histories, personality traits and achievements of our talented superheroes of tomorrow but also at providing the much-needed encouragement and recognition, which is as crucial for these children to blossom to their full potential.  Such encouragement and recognition are hard to come by in a nation and society that generally considers it a virtue to walk well-trodden paths instead of exploring uncharted territories.
If you have any objection to this press release content, kindly contact pr.error.rectification[at]gmail.com to notify us. We will respond and rectify the situation in the next 24 hours.