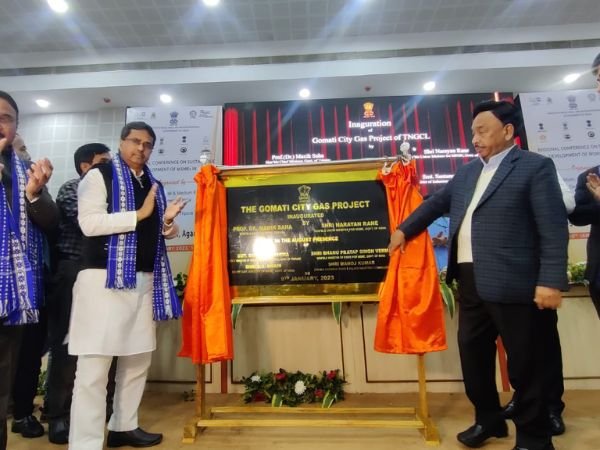 Agartala (Tripura) [India], January 17: Union Minister for MSME Shri Narayan Rane, along with honourable Chief Minister of Tripura, Prof. (Dr.) Manik Saha, and Union Minister of State Shri Bhanu Pratap Singh Verma, presided over the 'Regional Conference on Sustainable Development of MSMEs in the North East Region (NER)' held at Agartala, Tripura on 9th January 2023. The conference was organized by the Ministry of MSME to spread awareness of various Schemes of the Ministry. The Conference showcased the launch of various initiatives of the Ministry of MSME, the Government of India (GoI), and the State Government of Tripura. Launch of RAMP (Raising and Accelerating MSME Performance), Linking of NER Portal under Udyam Shakti, Inauguration of the Gomati City Gas Project, Inauguration of West Tripura Bamboo Mat Cluster under SFURTI scheme and Inauguration of the new building of KVIC (Khadi & Village Industries Commission) & TKVIB (Tripura Khadi & Village Industries Board) were few of the activities planned for the conference. The conference provided a platform for aspiring/existing entrepreneurs to interact with Government departments from Central and State governments, CPSEs and Industry Associations, working continuously towards the development of MSMEs in India.
Briefing the Media at Agartala, senior officials of MSME gave details regarding inclusive growth for which the Ministry of MSME implements various schemes to promote entrepreneurship in India, providing handholding support to MSMEs through various interventions catering to every segment of society.
"Promotion of MSMEs in NER & Sikkim" is a steadfast scheme providing financial support for infrastructure development for MSMEs. The guest list included Shri Narayan Rane – Hon'ble Union Minister of MSME; Shri Bhanu Pratap Singh Verma, Hon'ble MOS, MSME; Shri Saurav Pahari, Chairman, Tea Board; Shri Manoj Kumar, Chairman, KVIC, Shri Medo Yhokha, Advisor to Hon'ble CM, Nagaland, Shri B.B. Swain, Secretary, MSME, Government of India, Shri H.K. Sarma, Secretary, Industries, Sikkim, Shri Vipul Goel, Joint Secretary, MSME, Gol, Smt Mercy Epao, Joint Secretary, MEME, Gol, Shri Vinit Kumar, CEO, KVIC.
To empower MSMEs in NER, Government has spearheaded many initiatives, and to date, Rs 140 crore has been released. Under PMEGP (Prime Minister Employment Generation Programme), 1.14 Lakh micro units have been assisted, leading to the generation of 7.6 Lakh jobs. MSME Cluster Development Programme has led to the completion of 29 projects since its inception, and Government has released Rs 135.45 Crore. A total of 85 clusters benefitting the local artisans have been approved under "SFURTI (Scheme of Fund for Regeneration of Traditional Industries)". To date, 2.7 Lakh enterprises from NER have registered themselves on Udyam Portal, giving employment to 23 Lakh people.  
Programme schedule:
The following programmes/schemes have been launched virtually during the programme :
(a) Launch of RAMP Portal
(b) Linking NER Portal under Udyam Shakti
(c) Release of Margin Money Subsidy to the PMEGP beneficiaries of NER states, including Tripura
(d) Felicitation of 10 successful entrepreneurs under PMEGP
(e) Inauguration of the Gomati City Gas Project by the Hon'ble Chief Minister of Tripura
(f) Inauguration of West Tripura Bamboo Mat cluster under SFURTI scheme.
Initiatives taken by State Government to promote the MSME sector:
(i) The "Tripura Industries (Facilitation) Act, 2018" has been enacted to provide legal backing to the endeavour of the State Government to reduce the compliance burden.
(ii) A single window portal for the State is already developed, and to facilitate the same, a Single Window Approval by All Government Agencies in Tripura (SWAAGAT) Cell has also been set up in I IDC Ltd. to provide handholding support to the entrepreneurs.
(iii) The physical infrastructure at Bodhjungnagar and R.K Nagar Industrial Growth
Centres at Khayepur in West Tripura are being upgraded under the Asian Development Bank scheme.
(iv) The Special Economic Zone (SEZ) is being set up at Sabroom.
(v) Trade & Commerce with Bangladesh: The trade and commerce with Bangladesh have increased many folds in terms of trade volume with improved infrastructure at Integrated Check Post, Akahura and upgraded Land Custom Station at Sonamura.
The total volume of trade has increased from a meagre Rs. 4.12 crores during
1995-96 to about Rs. 390 cr. during 2017-18 and Rs.1008.00 crores during 2021-
22.
(vi) Besides the Integrated Checkpost at Agartala, another two ICPs are proposed to be set up at Sabroom and Nishchintpur. Also, with the financial support of the Ministry of Commerce, 2 (two) Border Haats have been set up in Srimantapur and Kamalasagar. Also, 2 (two) new Border Haats are under implementation in North Tripura and Dhalai District.
(vii) The State Government has introduced the "Tripura Industrial Investment Promotion Incentive Scheme, 2022".
(viii) The Tripura Bamboo Mission is implementing the scheme of the National Bamboo Mission for integrated development of the bamboo sector. For the overall development of the Agarbatti industry, the "Mukhyamantri Atmanirbhar Agarbatti Mission" scheme has been formulated.
(ix) Tripura is the second largest rubber-producing state in the country, after Kerala, which is being further focused through a special policy called Chief Minister's Rubber Mission launched in August 2021.
(x) State Government has released the 'Tripura Agar Wood Policy 2021', which aims to double agarwood plantation by the year 2025.
(xi) The State Government has also introduced the "Electric Vehicle Policy".
(xii) The State of Tripura is also implementing the PM Gati Shakti scheme. State Logistic Policy and City Gas Distribution Policy are underway.
Given the impact of MSMEs on our economy, it is imperative that focused efforts are given to promote entrepreneurship amongst the youth and create a conducive ecosystem where they play an integral role in the development of the Indian economy to realize the 5 trillion USD economy.
Nurturing the MSME sector is essential for the economic well-being of the nation. MoMSME is consistently working to empower MSMEs for sustainable growth and to become compatible in the global value chain. This conference will help MSMEs of Tripura and other North Eastern States to expand their horizons by incorporating new ideas as they become aware of the various interventions given by the Government.
If you have any objection to this press release content, kindly contact pr.error.rectification@gmail.com to notify us. We will respond and rectify the situation in the next 24 hours.