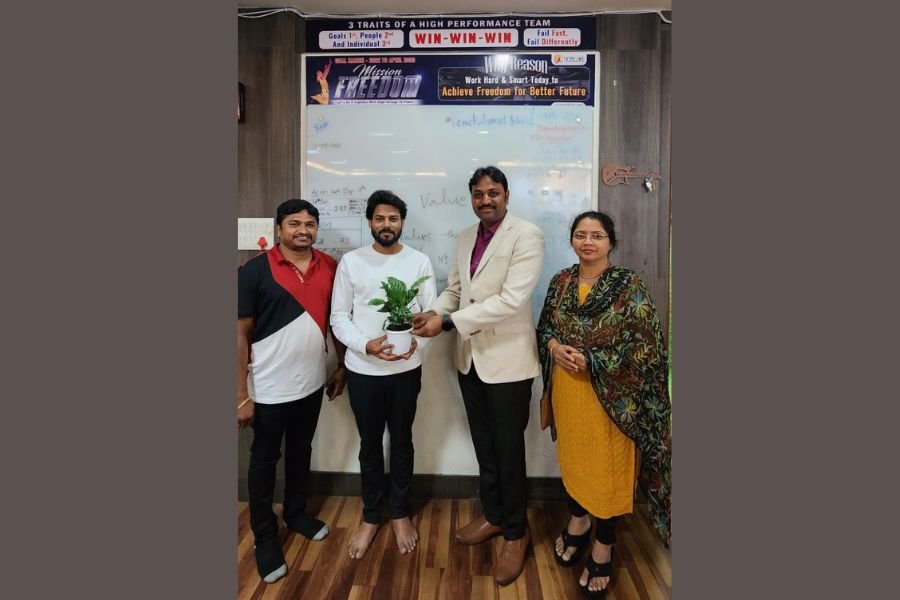 Hyderabad (Telangana) [India], September 22: On September 23rd, the city of Hyderabad will witness an extraordinary gathering of over 250 entrepreneurs, all under one roof, for the WeVysya Telangana Business Conclave 2023. This mega event, set to take place at the luxurious Marigold Begumpet, promises an unparalleled opportunity for business owners to connect, collaborate, and grow alongside professionals from diverse domains.
Highlighting the event is the distinguished guest speaker, Mr. Venu Kalyan, a renowned Business and Life Coach whose impact has resonated with over 2 million individuals across the country. With his wealth of knowledge and expertise, Mr. Kalyan is set to inspire and empower attendees with insights that can transform their businesses and lives.
WeVysya Telangana Business Conclave is not just an event; it's an ecosystem for forging new relationships, discovering fresh opportunities, and expanding one's network on a global scale. This year's conclave promises to be a catalyst for innovation, growth, and success.
Key Event Details:
Date: September 23, 2023
Time: 9:00 AM – 6:00 PM
Venue: Marigold Begumpet, Hyderabad
Registration Link: https://forms.gle/31HjbJhMFZSUt5JEA
Contact Person: Prasanna
Contact Number: 7842659999
WeVysya Telangana Business Conclave 2023 is dedicated to enhancing businesses by building powerful networks and facilitating valuable connections. WeVysya's mission is to empower entrepreneurs to succeed on their own terms, aiming to establish itself as the premier business group worldwide.
Anil Kumar Padakanti, an esteemed mentor, Immediate Global Past President of Wevysya and driving force behind the WeVysya Telangana Business Conclave 2023, brings a wealth of experience and wisdom to this transformative event. With a deep understanding of entrepreneurship and business dynamics, Mr. Padakanti's guidance is invaluable in shaping the conclave's vision and ensuring it delivers maximum value to attendees. His passion for empowering entrepreneurs and fostering innovation aligns perfectly with WeVysya's mission, making him a cornerstone of this exceptional gathering. Entrepreneurs and professionals attending the conclave can look forward to gaining profound insights from Mr. Padakanti's expertise, further solidifying the event's reputation as a catalyst for success in the business world.
"We believe in the power of networking, collaboration, and knowledge sharing," said Mr. Chandra Mohan Poori, the Project Chairman of WeVysya Telangana. "This conclave is designed to provide a platform for entrepreneurs to exchange ideas, learn from experts like Mr. Venu Kalyan, and expand their horizons."
The WeVysya Telangana Business Conclave 2023 is made possible by the dedicated and dynamic organizing team, whose unwavering commitment to excellence ensures the event's success. Mentored by Anil Padakanti (Immediate Past Global President) , Led by Project Chairman Chandra Mohan Poori and Co-Chairmen Ramakanth Akula, Venkata Ravi Kumar, and Priyanka Shyam, Raghavendra Vemula this team embodies professionalism and vision. Their guidance is complemented by the expertise of Advisors Dr. Kalyani Guduguntla, Sudhanva Maripalli, Venkatesh Thadishetty, and Ramesh Gupta, who bring invaluable insights to the table. Together, they form a cohesive unit focused on creating a platform that fosters collaboration, innovation, and lasting connections for all attendees.
About WeVysya:
WeVysya is a dynamic business group committed to empowering entrepreneurs and professionals to achieve their goals through networking, collaboration, and knowledge sharing. With a dedicated team of professionals and a mission to become the best business group globally, WeVysya is a driving force in the business community.
If you have any objection to this press release content, kindly contact pr.error.rectification[at]gmail.com to notify us. We will respond and rectify the situation in the next 24 hours.